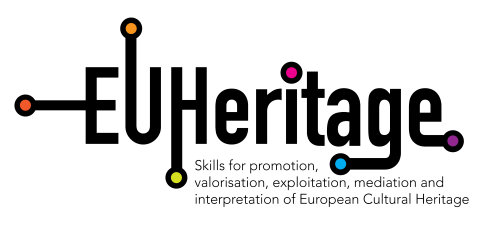 EUHeritage Open Online Course (MOOC)
EUHeritage
Users with access to the previous EUHeritage course enter here
Introduction to the course:
---
The course offers a professional training for the cultural heritage professionals, current and future, focused on digital and soft skills as well as skills connected to "experience tourism" in the field of cultural heritage. In this regard, the learners shall develop knowledge and skills in the following areas:
Creating a link between Cultural Heritage and Experience tourism for local development;

Designing an innovative Visitor Experience;

Knowing and applying digital strategies and tools for cultural heritage;

Adopting an entrepreneurial approach for cultural heritage;

Learning about sustainability, project evaluation and impact measurement;

Being familiar with policies and best practices in the context of Cultural Heritage and Tourism;

Knowing about different Competence frameworks and lifelong learning;

Community building, participating and interacting with peers in an online environment.
All 5 modules are structured with 2 major aspects:
Knowledge, which facilitates the learner to understand, illustrate, compare and outline the most important aspects/approaches/methodologies of cultural heritage, experience tourism, digital strategies and entrepreneurship.
Experience, which aims to enhance the learner's skills and competences needed on building, planning, developing, managing and evaluating an experience product for Cultural Heritage and Tourism.
---
Who is this course for?
---
The course addresses:
Active professionals of the relevant field of Cultural Heritage and Tourism;

Students or graduates, who wish to advance their knowledge and be competent in the field of Cultural Heritage and Tourism.
Any working experience in the sector will be helpful but is not compulsory.
---
What will you achieve?
---
The course addresses the needs of the professionals and students or graduates who want to enhance the potentials of connecting the heritage sector with other sectors, i.e. tourism, technology, Creative and Cultural industries, entrepreneurship & business.
Learners will be able to know more and build up their digital and soft skills as well as their transferable and digital competences, towards the Heritage Promotion, Valorization, Exploitation, Mediation and Interpretation.
---
Structure of the course:
---
Learners will need approximately 10 hours of learning per week, for each Unit of the EUHeritage Modules in this course
The programme offers training on 5 modules.
Digital training material will be available online and you will be able to join a community of peers by participating in open discussions and active interaction through a forum.
Within the EUHeritage community platform, students, tutors and stakeholders will be able to discuss on topics and relevant issues regarding the Cultural Heritage and Tourism.
The course is delivered free of charge.
---
---
How to earn the Certificate of EUHeritage course?
---
Upon completion of the online course and succeeding in at least the 45% of both learning material and of graded activities (quizzes), learners will be able to achieve the Certificate of Completion. Open badges will be awarded to learners after the successful completion of each Module.
---
Creators:
---
This course was developed by:
---
---
---
---
---
| | |
| --- | --- |
| in the framework of the European Erasmus Plus project | |
| | |
| --- | --- |
| | This project has been funded with support from the European Commission. The content of this platform does not reflect the official opinion of the European Union. Responsibility for the information and views expressed in the website lies entirely with the author(s). Project No: 601073-EPP-1-2018-1-IT-EPPKA2-SSA |
---
---